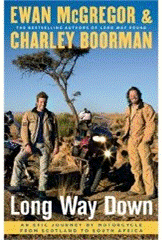 Ewan
and
Charlie
went back on the road again. In
The Long Way Down
, they depart from the tip of Scotland and travel 15,000 miles on their motorcycles to the tip of South Africa.
This journey is a follow up to their 2004 trip
The Long Way Round
,when they they rode their motorcycles from London, across Europe, Asia and the US to New York City.
The Wife and I really enjoyed watching
The Long Way Round
when it aired on television. So when she saw
The Long Way Down
in the bookstore she grabbed a copy.
The book alternates between
Ewan
and
Charlie
telling the story of their journey starting from John o' Groats at the northern tip of Scotland. Each hands the story off to the other to continue as they travel across Great Britain, France, Italy, Tunisia, Libya, Egypt, Sudan, Ethiopia, Kenya, Uganda, Rwanda, Tanzania, Malawi, Zambia, Namibia, Botswana and finally into South Africa. Their journey ended at Cape Agulhas but they were accompanied from there to Cape Town by a group of other bikers.
To be honest,
Ewan
and
Charlie
are better television personalities than authors. But I really enjoy watching
The Long Way Round
and really enjoyed the first episode of
The Long Way Down
, so that is a fairly high bar.
I was hoping they would highlight some of the dangers and challenges of such a long journey. One of the purposes of the journey was to highlight some great charitable organizations in Africa.
UNICEF
was a big reason for the journey.
They also highlight the effort of
Riders for Health
. By ensuring health workers have access to vehicles that never break down
Riders for Health
is making sure millions of people across Africa receive regular reliable healthcare.
Riders for Health
sends riders out on motorcycles to provide healthcare across the countryside.
The Long Way Down
is worth buying and reading.